Societe Generale: Euro, yen outlook
Share
From

Business News
publisher

Jennifer
Issue Time

May 16,2017
Summary
Societe Generale: Euro, yen outlook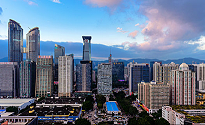 Societe Generale (SocGen) Tuesday (May 16th) published an article on the euro / dollar, aud / JPY, and the Canadian dollar / yen outlook. As follows:
The bank's Cross asset strategy research team notes that the US economic data will be limited in the near future and will have new housing starts and industrial output in the next few days. These are difficult to push up the U.S. Treasury yields and the dollar play a big role.
The dollar index, which hit a record high in December, seems unlikely in the near term. This provides a good opportunity for the euro / dollar to rise by 1.10 again this week.
At the same time, the bank suggests that aggressive investors can consider doing more aud / JPY and CAD / JPY at the current level.
Investors with high risk tolerance can do more Canadian dollar / yen, and stop loss at a narrow 82.50 level.
AUD / JPY is the same, the upside is good, but a stop loss is required near 81.50.